Florida's Gulf Coast is not only known for its pristine beaches and crystal-clear waters but also for its delectable seafood restaurants. Nestled along the stunning 30A scenic highway and in the charming vicinity of Santa Rosa Beach, you'll discover a plethora of seafood cuisine offering mouthwatering dishes and unforgettable dining experiences. Not to mention, you will also find a wide array of gulf-to-table options that feature locally harvested fish, shellfish, and more.
If you would like information beyond the best local restaurants, be sure to download our FREE DESTINATION GUIDE.
Join us as we embark on a culinary journey to explore the best seafood restaurants in this coastal paradise.
Casual Seafood Restaurants Along 30A
The Bay
Nestled along the Choctawhatchee Bay, The Bay is a waterfront restaurant that combines stunning views with an innovative seafood-focused menu. From their savory Oysters Rockefeller to the tantalizing Gulf Fish Piccata, every dish is crafted with care. Enjoy the relaxed atmosphere, live music, and the chance to spot dolphins while savoring your meal.
Stinky's Fish Camp
For an authentic seafood experience, head to Stinky's Fish Camp in Santa Rosa Beach. With its rustic charm and casual waterfront setting, this restaurant serves up a variety of Gulf Coast favorites. From their succulent Blue Crab Claws to their mouthwatering Seafood Gumbo, each dish is prepared with love. Visit for a change to see how they showcase the freshest local ingredients.
The Red Bar
Located in the heart of the Grayton Beach community, The Red Bar is a local favorite. It is renowned for its laid-back atmosphere and delectable seafood fare. Indulge in their signature Crab Cakes, Gulf Shrimp Pasta, or fresh catch of the day. Of course you will want to savor the flavors of the sea while enjoying live music in a vibrant setting.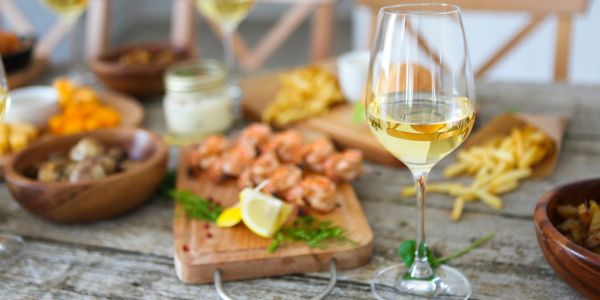 Upscale Dining in Santa Rosa Beach
Vue on 30A
Perched atop a dune overlooking the Gulf of Mexico, Vue on 30A offers not only breathtaking views but also an exceptional seafood restaurant. Their menu features a fusion of flavors, including the popular Grilled Gulf Shrimp, Pan-Seared Scallops, and the Catch of the Day prepared to perfection. Immerse yourself in the coastal ambiance and enjoy a memorable meal.
Down Island Gulf Seafood Restaurant
For a unique twist on local favorites, give Down Island Gulf Seafood Restaurant a try! Located in Santa Rosa Beach, this is not your typical Gulf Coast dining. Celebrated as one of the areas only chef-owned restaurants, it features wood-fired seafood, a raw bar, and a twist on Gulf south favorites. The modern casual atmosphere is comfortable and indulgent.
The Great Southern Café
Situated in the bustling town of Seaside, The Great Southern Café offers a unique twist on traditional Southern cuisine with a focus on seafood specialties. Don't miss their famous Grits à Ya Ya, made with sautéed Gulf shrimp, smoked Gouda cheese grits, and a flavorful bacon-cognac cream sauce. The cozy ambiance and friendly staff make this café a must-visit for seafood enthusiasts.
When it comes to seafood dining, the 30A area and Santa Rosa Beach in Florida offer an array of fantastic options. From charming beachside eateries to upscale waterfront establishments, these seafood restaurants have it all. They cater to all palates and promise an unforgettable culinary journey. So, whether you're a seafood connoisseur or simply looking to savor the flavors of the Gulf Coast, make sure to explore these top-notch dining destinations during your visit to this coastal paradise. Prepare to be amazed by the freshest local catches, tantalizing flavors, and warm Southern hospitality that await you. If you would like to see more amazing local dining options, click here.