Are you looking to plan a fun fishing outing with your friends soon? What a wonderful idea! There's nothing like getting out on the water and catching some fish. 30A is a fabulous Florida destination, especially when it comes to fishing. That's precisely what we will discuss in this blog. Read on to learn more about 30A fishing, including deep-sea, in-shore, and pier fishing, and start planning your getaway today. 
Learn more about the best things to do on 30A with our free Vacation Guide. This exclusive tool features all our top recommendations for local restaurants, events, shops, museums, outdoor adventures, and more. 
Here's All You Need to Know About 30A Fishing
Deep
–
Sea
 Fishing
One of the best ways to enjoy fishing on 30A is to get away from the shore and experience deep-sea fishing! There's nothing like gazing at the blue horizon ahead, feeling the breeze on your face, and catching a variety of tasty fish! The town of Sandestin is considered one of the top fishing spots in Florida, with high-quality salt water and a 600-foot depth along the curve of the Gulf. Get ready to catch fish like Red Snapper, Grouper, Amberjack, Speckled Trout, and many more! 
Note: We recommend using a private charter to get you and your crew offshore! One of our favorites is Charter Boat Backlash, which offers eight to 16-hour trips.  
In-Shore Fishing
Deep-sea fishing isn't the only option you have when you come to 30A for Panhandle fishing. Indeed, if you want to take a break from getting out on the ocean, you can focus your attention on in-shore fishing options! Head over to the Choctawhatchee Bay, where you will find the Shallow Water Expeditions and enjoy a relaxing day fishing on calmer waters. There, you'll be able to catch bull redfish, jack crevalle, shrimp, and more.  
Pier Fishin
g
Lastly, have you considered pier fishing? This is the easiest option and can be enjoyed any day during your stay. Indeed, no need to rent a boat – all you need is a fishing license as well as the authorization to fish from the said pier (look for signs before you set up). We recommend the Russell–Fields Pier in Panama City. It's more than a quarter–mile long and offers great fishing opportunities. You won't have a problem spotting fish through the clear waves underneath you!
Find the Perfect Place to Stay at Adagio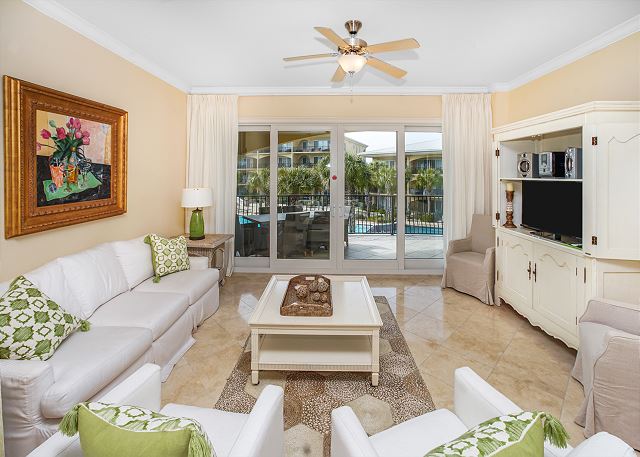 Now that you know everything about 30A fishing, it's time you start looking for a place to stay. Spending hours holding a fishing rod and pulling is tiring, so you need to find a place where you can relax and enjoy each other's company. Luckily for you, Adagio condos are ideal. They offer splendid décor, high-end amenities, and easy access to the beach. Picture yourself enjoying a cold beer on the terrace with your friends, ordering a large pizza, and watching your favorite sports game on the HDTV.