When you are ready to get serious about purchasing a beach front property in Santa Rosa Beach there are several things you should consider. Real estate on the Gulf Coast of Florida is a prime commodity, and we know firsthand why you would want to purchase your own slice of paradise here on Florida's Emerald Coast.
At Adagio 30A, we are dedicated to helping our owners and guests in every way we can, including the process of buying a home in sunny Florida.
Here are a few things that we recommend you research and/or keep in mind when starting the search for your 30A beach front property:
Moving to Great 30A?
Will your new property be your full-time residence or a vacation home? This is an important question to consider when you decide to purchase a property on the Gulf Coast. What if you decide later that you want to transition your Florida full-time residence into a vacation rental? Will the location allow you to turn your home into an investment property?
Do Your Research on Owning Investment Property
If you are purchasing a property as an investment property, be sure to research taxes, insurance costs, and municipal regulations. Your realtor should be able to help you with this. However, there is a lot of research that can be done directly from the comfort of your own home via the internet. You will also want to consider and research maintenance, housekeeping, and security to determine if owning a rental property (short-term or long-term) is right for you.

Things to Consider When Buying Beach Front Property in 30A
Know What You Want to Pay – It is important to have a minimum and maximum budget in mind when you begin your real estate search.
Have you Been Pre-Approved? Do You Need a Lender? – If you are going to be using financing, it is a good idea to get pre-approved for a loan.
Consider the Cost of Insurance – As mentioned above, insurance is a large factor that you will want to consider when buying a beach front property. You will want to ask about the different types of insurance you will be required to carry on your property. You may need to carry flood insurance or an additional wind policy. If you use your property as an investment property, there may be other types of insurance to consider.
Turnkey or Fixer Upper? – Are you looking for a property that is ready for you to move right in or would you prefer a fixer upper. This information is important to communicate when you speak to your realtor or real estate agent.
How to Find a Realtor – The team at Adagio 30A would be happy to help you find the right realtor for your needs. Have an idea of the kind of person who would be the best fit for your personal needs. In any case, you will want someone who is an excellent communicator, who will advocate on your behalf, and someone who will listen to your desires and needs.
Is This the Right Time for You to Invest? – There are a lot of factors at play when asking yourself if now is the right time to invest. Are your personal finances in places for this investment? Is the marketing right for an investment? How will this investment impact your present and future life?
What was the Previous Annual Rental Income from the Property? – If you are looking at beach front properties that have previously been rental properties, be sure to ask for an annual income report. This will let you know the income potential of the property.
Property Management Services at Adagio
Adagio 30A is an exclusive property management company for Adagio condominiums. If you purchase a home at Adagio and decide to use it as a vacation rental property, we would be honored to manage your property for you. Our team of dedicated professionals help owners and guests have the best vacation rental experience possible.
Click below to see what you can expect from Adagio 30A or any Florida property management company.
Block Off Time for Your Family to Enjoy Your 30A Property
If you decide to rent your 30A property, be sure you have the flexibility to enjoy it. Ask your potential property management provider about their owner use policies and how easy it is to reserve owner blocks.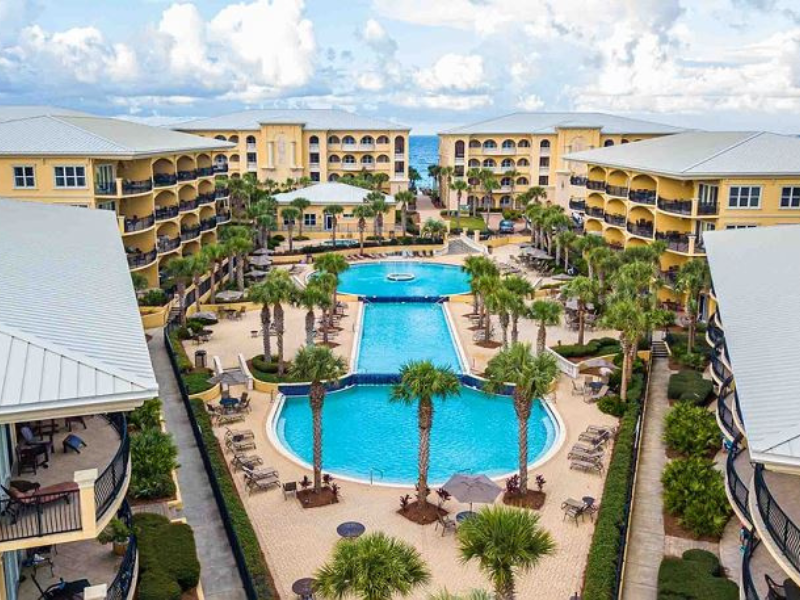 Start Your Search for an Amazing Adagio Property
We know that there are hundreds of communities and endless options when looking for a Gulf Coast property for sale. We also think that there is no better place to look for your slice of paradise than right here at Adagio. Our family-friendly condos offer a resort-style experience that is unlike anything else you will find.
If you aren't sure if Adagio is the right place for you to own a beach front property, then consider coming to stay at Adagio for your next vacation. Experience firsthand what Adagio is all about… and why Adagio 30A is the premier choice for property management services.