Vacationers to the beautiful 30A come from all walks of life and have a diverse set of interests. For some people visiting our gorgeous shores, fun is wandering the aisles of an antique store in search of a treasure. Great news!! Our surrounding area offers more than just sun and sand. There are great antique stores in Destin, FL and our surrounding area. Nestled amidst this beachside paradise are a myriad of antique stores waiting to be explored. Whether you're a seasoned collector or simply love the charm and character of vintage pieces, our local antique stores are sure to captivate your imagination. You will also want to consider pairing your day of antique shopping with a delicious seafood lunch or dinner.
In this blog post, we'll take you on a journey through the best antique stores in Destin, where you can uncover hidden gems and embark on a nostalgic adventure.
Flutterby Antiques
Located in the heart of Destin, Flutterby Antiques is a haven for antique enthusiasts. Step inside and be transported to a world of vintage wonders, with its vast collection of furniture, décor, artwork, jewelry, and collectibles from various eras. You'll discover a diverse range of items to suit every taste and style. Spend hours browsing through the carefully curated selection. You may stumble upon the perfect piece to add a touch of history and elegance to your home.
Smith's Antique Mall
Embrace the nostalgia at Smith's Antique Mall, a treasure trove of vintage treasures in Miramar Beach. This charming antique store boasts an extensive collection of antique furniture, glassware, jewelry, and memorabilia, inviting you to step back in time. The knowledgeable and friendly staff are always on hand to offer insights and guidance as you explore the aisles. They make your shopping experience even more enjoyable. Shop their unique selection of vintage accessories for a truly one-of-a-kind find.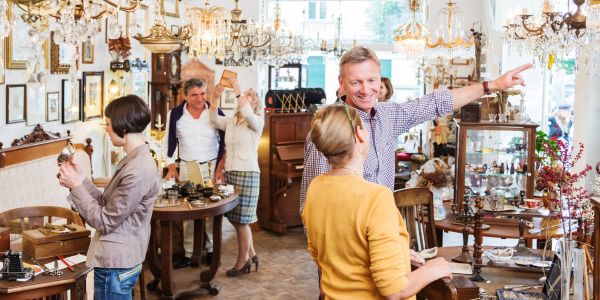 Antiques on Holiday
Step into Antiques on Holiday and immerse yourself in a world of vintage elegance. Located just a short drive from Destin, this antique store features a wide array of antiques and collectibles that will transport you to bygone eras. From antique furniture and exquisite China to vintage jewelry and artwork, every corner of the store holds a delightful surprise. The knowledgeable staff are passionate about their collection and are more than happy to share stories and insights behind each unique piece.
Sheffield Antiques
Located in Santa Rosa Beach, Sheffield Antiques has been in business over 25 years. They offer wonderful one-of-a-kind antiques. Their pieces are hand-picked 17th to 20th century finds. You will find furniture, garden, architectural, religious fragments, paintings, and anything else that just couldn't be left behind during their shopping expeditions to France, Italy, Spain, and Portugal. This curated collection of unique finds are housed in a warehouse setting with the comforts of air conditioning. Hours of operations are limited, so be sure to check their hours before heading to Sheffield's.
Embarking on a journey through the best antique stores in Destin, FL is like stepping into a time capsule. History comes alive through cherished pieces from the past. Search for a unique statement piece for your home, a sentimental memento, or simply enjoy the thrill of uncovering hidden treasures. Destin's antique stores have something for everyone. So, plan your visit, embrace the nostalgia, and let the antique stores of Destin be your gateway to a world of timeless beauty and captivating stories.
For more great planning tips, download our FREE destination guide!