Do you live in Alabama or are you passing through Montgomery on your way to the East coast? If so, you've landed on the right page! What if we told you your vacation destination is just a short drive away? Pack up your car, gather your loved ones, and head out to 30A for an unforgettable stay. In this blog, we'll tell you how you can plan the ultimate road trip from Montgomery to Destin/Santa Rosa Beach and make it part of your vacation. So, read on, takes notes, and get ready for a fun adventure. 
Discover the best things to do on 30A in our exclusive, free Vacation Guide. Inside, we've compiled some of our favorite recommendations for local restaurants, events, shops, museums, outdoor activities, and more. 
5 
Things 
to 
Know Before Going 
on
Your Road Trip from Montgomery to Destin/Santa Rosa Beach
How Far is Destin from Montgomery?
If you decide to drive nonstop from Montgomery to Destin and Santa Rosa Beach, the 173-mile  drive takes about three hours. It's the perfect length for a road trip as it's doable in one day and not long enough for the kids in the back to fuss too much. We highly recommend making stops along the way to make this adventure even more exciting. With stops, the trip still won't take you longer than four to five hours. Read on to discover some of our favorites! 
Greenville
Your first stop from Montgomery is Greenville, AL. Take time to explore Main Street and its various shops. You can find beautiful antiques, apparel for your upcoming vacation at the beach, and, of course, restaurants where you can have lunch. Alabama Grill is a great choice if you want a laid-back atmosphere and delicious food. 
Andalusia
How about getting out in nature along the way? Your legs will thank you. In Andalusia, AL, head over to the Frank Jackson State Park! This recreation area has all you need to take your mind off driving: lush forests, a gorgeous lake, and lovely walking trails. It's the break you and your family deserve. If you skipped lunch, you can even have a picnic there! 
Crestview
Now, you've officially left Alabama! Before reaching your final destination, we have one more stop for you: Crestview, FL! It's a great stop for a cup of coffee or other refreshments, for example. Casbah Coffee Company is perfect for that. You can even get your beverage and go enjoy it in nature at Twin Hills Park! 
Destin and Santa Rosa Beach
The last stop on your itinerary is also the end of your road trip! Destin and Santa Rosa Beach are such rewarding destinations. Take a moment to get out of your car and gaze at the turquoise ocean in front of you. Take a deep breath of the salty, fresh air, dip your feet in the warm sand, and go on a leisurely walk on the Destin Harborwalk. There, you'll find plenty of restaurants with views, quaint shops, and fun activities to relax after your drive. 
Find the Perfect Place to Stay on 30A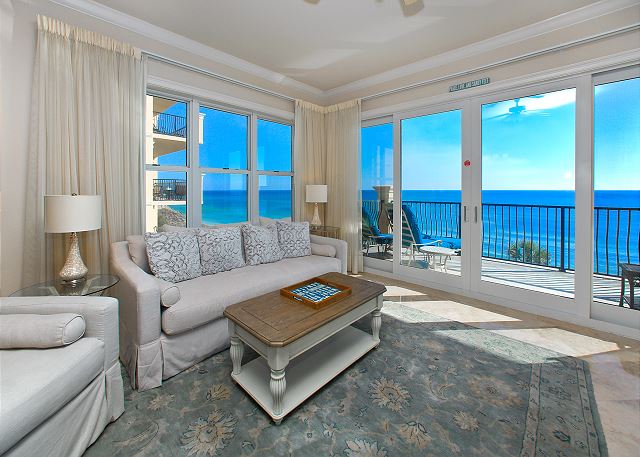 You've made it! You've arrived on 30A! After such an adventure, you'll need a cozy place to stay to relax and kick off your vacation in style. Adagio offers high-end condos with gorgeous décor, modern amenities, and stunning ocean and pool views. Whether you are just traveling with your significant other or with a large family or group of friends, we have the perfect place for you. Browse our selection today and pick your future home away from home!