There are so many perks associated with visiting Florida during the winter. Not only do you escape the summer crowds, but you get to enjoy the best events the Emerald Coast has to offer. If you are a foodie and love to discover new flavors, you cannot miss the Sandestin Gumbo Festival in February! Enjoy the stunning views of 30A while sampling some of the best seafood you've ever had—all prepared by renowned chefs. What else could you wish for? Read on to learn more and plan an entire trip around this exciting festival and visit 30A.
Make this vacation the best it can be and download our free Vacation Guide. Inside, you'll find our favorite local recommendations for restaurants, shops, museums, outdoor activities, and of course, many more events!
Here's Why You're Going to Love the Sandestin Gumbo Festival
It's the Most Anticipated Event on 30A
There's nothing like attending a local festival to get to know the community (and have fun). If you're planning a visit to 30A in the winter, make sure you're around for the highly anticipated Sandestin Gumbo Festival! This event has been one of the most popular Sandestin events for more than 30 years and features the best of the 30A culinary scene. Between delicious seafood, live music, and fun activities, the festival is a wonderful way to lay back and enjoy your vacation at the beach. 
It's Paradise for Seafood Lovers
If you haven't guessed by now, here it is: The Sandestin Gumbo Festival is a dream-come-true for seafood lovers. You can sample delicious gumbo prepared by the best chefs from the hottest restaurants in town and vote for your favorite! Attend the kick-off seafood broiler party at the Hammerhead's Bar and Grille, delight your taste buds with an explosion of gumbo flavors at the main event (are you team chicken, sausage, or seafood?), and pair it all with delicious drinks. Did you know that they even hold a contest for the best Bloody Mary? Follow our advice and don't miss a sip of it! 
It Takes Place in the Most Glorious Setting
Sandestin is a prime location on 30A. You can enjoy all the festivities against the most beautiful backdrop. Between the golden beaches and turquoise water, you'll feel as if you stepped into a haven of peace and tranquility. Make sure you also try some of the best Sandestin restaurants! After all, it would be a shame to miss out on any 30A's delicious food!
Book the Coziest Condo on 30A!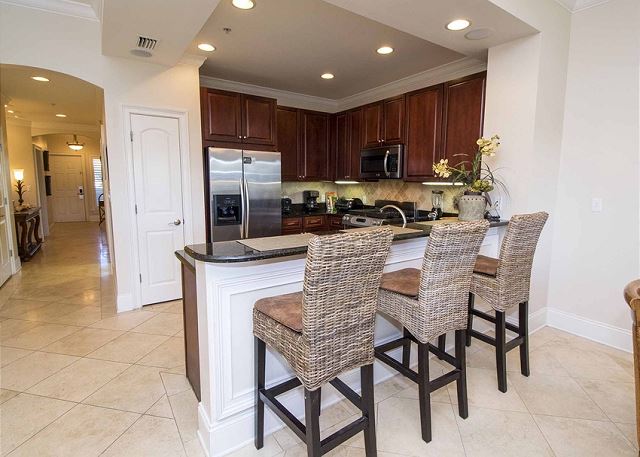 While planning your visit to the Sandestin Gumbo Festival, you'll want to find the perfect place to stay with your family and friends. Luckily for you, Adagio is one of the best vacation rentals on the Emerald Coast—and it's right next door to the festival! Taste the best food in the area and come home to your luxurious rental for a good night of sleep and relaxation.
Take a look at our Adagio C-302 condo, for example. It features four bedrooms and three bathrooms, which means that your group has plenty of space. This beautiful unit is adjacent to the beach walkover and the front pool, which both offer splendid views. You can grab yourself a glass of wine and enjoy a stunning sunset before coming in and snuggling on the couch. This unit also features a modern kitchen with granite countertops, a gas stove, and stainless appliances to cook yourself a delicious dinner. Feeling lazy? Don't worry—you'll be within walking distance of some of the best restaurants on 30A!