30A is a wonderful place to vacation. One might even say it's a paradise on Earth. Between the endless golden shores and turquoise waters, it's a place where you can leave your stress behind and embrace the beach way of life. But, one question remains: Where in 30A are you going to stay? Will it be Rosemary Beach or Santa Rosa Beach? In this blog, we'll help you decide based on your interests and desires. So, read on, take notes, and get one-click closer to your dream getaway!
To learn more about what you can do on 30A, download our free Vacation Guide! Our exclusive planning tool features some of our favorite recommendations for local restaurants, events, shops, museums, outdoor adventures, and more. 
Choose Between Rosemary Beach and Santa Rosa Beach for Your Vacation
Rosemary Beach
Rosemary Beach is a fun place to visit while vacationing on 30A. When you stay there, it's all about taking it easy and enjoying life's simple pleasures. Wake up in the morning and go browse the Farmers Market in search of fresh ingredients for brunch. You can also pack a picnic and head over to the nearby Camp Helen State Park! Its large coastal lake makes for a delightful, scenic spot. Do you love art? We can't recommend The Blue Giraffe gallery enough. This cute and quirky shop features works from several local artists, including handcrafted jewelry and furniture. It even has a book section you can peruse to find your next beach read!
Santa Rosa Beach
Santa Rosa Beach is one of the prime places to stay on 30A, and for good reasons! There are so many things to do here that you won't have a minute to get bored. To begin with, it's one of the top beaches on 30A where you can unwind and enjoy the Emerald Coast's beauty up close. You can also indulge in various outdoor activities, like renting a kayak and having some fun on the water, or, if you prefer to stay on the ground, go golfing at some of the gorgeous courses Santa Rosa Beach has to offer. Did we mention the numerous restaurants that are available to you? We personally love Louis Louis and its eclectic patio with tropical decor. It's the ideal spot for a happy hour cocktail!
Find Your Dream Rental on 30A With Adagio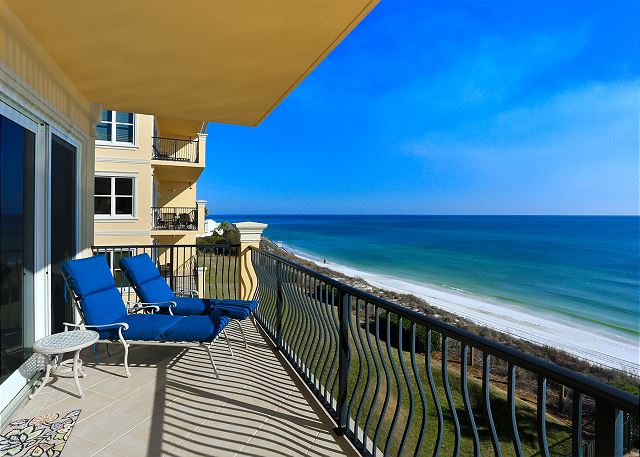 Now that you know why Santa Rosa Beach is one of the best places to stay on 30A, it's time you find the ideal home for you and your loved ones. At Adagio, we value your comfort and the memories you're going to make here. That's why we offer a selection of high-end condos with either ocean or pool views, all equipped with modern amenities and elegant decor. Take a look at Adagio B-301, for example. This white-toned unit faces the Gulf and offers spectacular views! We can already picture you sipping on your morning coffee on the balcony and gazing at the horizon! Who knows, you might even spot some dolphins in the distance! On top of that, our units all have access to two stunning pools, grill areas, and even a gym.